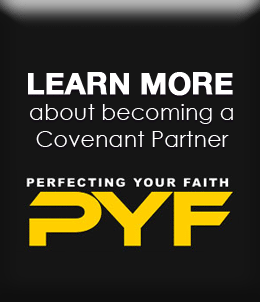 The Perfecting Your Faith broadcast is seen around the world on the WORD Network, Angel One Network and TBN. It reaches nearly 60 million homes in the U.S. and over 200 countries, including Europe, Africa, Asia and Australia. CONTINUE READING
As a convenant partner, you will receive:
• Covenant Partner Benefit Package
• Personal messages from Pastor McClurkin
• Early editions of the quarterly newsletters
• CD/DVD discounts and more
As a covenant partner, your faithful support will enable our ministry to continue to help bring deliverance to the captive, healing to the broken hearted and salvation to lost souls around the world!
BECOME A COVENANT PARTNER